Liv Hospital
Leading Center for Cancer Treatment and All Surgical Specialties in Istanbul, Turkey by Liv Hospital
Ayazaga Mahallesi, Kemerburgaz Caddesi, Vadistanbul Park Etabi, 7F Blok, 34396 Sariyer/Istanbul, Istanbul, Turkey

Specialty:

Cancer Treatment, General Medicine, General Surgery, Heart Care/Surgery, Robotic Surgery, Spine Care/Surgery, Stem Cell Therapy

Focus Area:

Liv Hospital | Istanbul | Turkey | Cancer Treatment | Spine Surgery | Robotic Bypass Surgery | Gynecology
Liv Hospital Profile Overview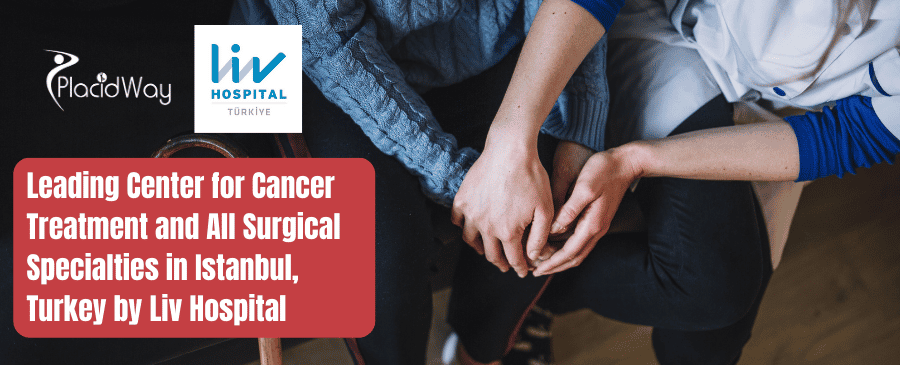 Table of Content
• Procedures • Advantages • Doctors • How to Book
Introduction to Liv Hospital Group: A Leading Medical Institution in Istanbul, Turkey
Liv Hospital Group in Istanbul, Turkey has rapidly grown into a prominent medical institution known for its exceptional healthcare services. With its diverse range of medical departments, specialized clinics, and subspecialties, Liv Hospital Group has become a reference center in the field of healthcare within a short span of time. This esteemed institution has gained recognition for its commitment to the value of human life, advanced technology, and a highly skilled team of physicians.
Liv Hospital Group in Istanbul, Turkey has quickly become a renowned reference center in healthcare, thanks to its continuous growth and commitment to providing personalized medical treatments. With a wide range of medical departments, diversified clinics, and subspecialties, Liv Hospital Group offers comprehensive care to patients. Supported by advanced technology and an expert physician staff, the institution focuses on individualized treatment, emphasizing the value of human life. Liv Ulus Hospital, with 154 beds, 8 operating theaters, and 52 clinics in a 30,000-square-meter facility, and Vadistanbul, with 200 beds, 7 operating theaters, and 76 clinics in a 40,000-square-meter space, are modern healthcare centers within Liv Hospital Group, designed to deliver exceptional and tailored medical services to patients.
Powering Advanced Medical Treatments at Liv Hospital
At Liv Hospital Group, the integration of cutting-edge technology plays a pivotal role in delivering advanced medical treatments. The institution continually invests in state-of-the-art medical equipment, diagnostic tools, and surgical instruments to enhance the accuracy and effectiveness of medical procedures. By embracing innovative technologies, Liv Hospital ensures that patients have access to the most advanced and up-to-date treatments for spine surgery, robotic bypass surgery, gynecology, oncology, and lung cancer treatment, leading to improved diagnosis, treatment outcomes, and overall patient satisfaction.
Liv Hospital's Commitment to Comprehensive Care
Liv Hospital Group focuses on providing comprehensive and specialized healthcare services to its patients. With the aim of meeting the diverse needs of individuals, Liv Hospital has expanded its medical departments and established a wide range of specialized clinics and subspecialties. This enables patients to receive personalized and targeted treatment options that address their specific medical conditions, ensuring the highest quality of care and positive health outcomes.
Liv Hospital takes pride in its team of dedicated and experienced doctors who strive to provide reliable and high-quality healthcare services. With a patient-centered approach and a commitment to multidisciplinary collaboration, Liv Hospital aims to be at the forefront of delivering exceptional medical care. The institution prioritizes the use of advanced diagnosis and treatment methods in alignment with global standards. Leading the way in this pursuit are esteemed professionals such as Prof. Ph.D. Erdal Karaoz, Prof. MD Cagatay Ozturk, Prof. MD. Koray Karabulut, Assoc. Prof. Ihsan Yilmaz, and MD. Majid Ismayilzada. These respected individuals contribute their expertise and knowledge to ensure the well-being and health of their patients, exemplifying Liv Hospital's commitment to "your health."
Liv Hospital takes personalized medicine to the next level by utilizing expert councils composed of experienced physicians from various disciplines. These councils play a vital role in diagnosing and treating numerous diseases, as they leverage the collective knowledge and expertise of multiple specialists. By incorporating up-to-date approaches, the councils at Liv Hospital ensure that the most suitable treatment protocols are determined. With a wide range of specialized boards including Oncology, Heart Health, Breast, Pediatric Oncology, Pituitary, Thyroid, Diabetic Foot, Nutrition and Nutritional Disorders, Neurological, Thoracic Oncology, Cardiac, Perinatology, and Vertigo, Liv Hospital delivers individualized care to patients, addressing their unique medical needs through a collaborative and multidisciplinary approach.
Compassionate Approach to Patient Care
Liv Hospital Group places great importance on the value of human life. Every aspect of their medical practice revolves around this core belief. The institution's compassionate approach to patient care extends beyond medical treatments and encompasses the emotional and psychological well-being of patients. Liv Hospital's healthcare professionals prioritize open communication, empathy, and understanding to create a nurturing and supportive environment for patients and their families, ensuring that they feel valued, respected, and cared for throughout their healthcare journey.
Our customer representative at PlacidWay will help you connect with LIV Hospital in Istanbul, Turkey. Click contact us button below to get started:

---
---