Male to Female Sex Reassignment Surgery Package in Pattaya, Thailand by V Plast Clinic
Package price starting from:
$12000
Treatment:
Cosmetic/Plastic Surgery, Sex Change Operation
Focus Area:
Sex Reassignment Surgery Pattaya Thailand | Gender Change Operation Thailand | Male to Female Surgery
---
Gender Change Male to Female in Pattaya Thailand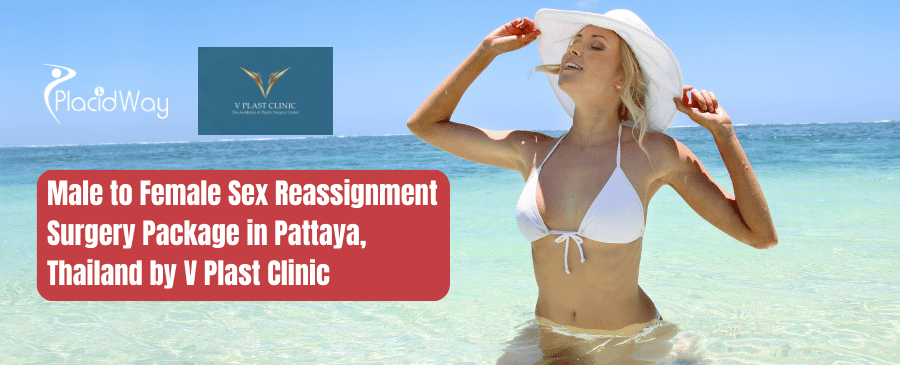 Many transgender today want to have sex change to truly feel free and confident. Why not traveling to Thailand for sex reassignment surgery? There are a lot of names associated with sex change; these include sex reassignment surgery, SRS, gender reassignment surgery (GRS), genital reconstruction surgery, sex affirmation surgery and sex realignment surgery. It is the surgical procedure (or procedures) by which a transgender person's physical appearance and function of their existing sexual characteristics are altered to resemble that of their identified sex. Prior to any surgeries, patients usually undergo hormone replacement therapy (HRT), and, depending on the age at which HRT begins, facial hair removal.
Sex reassignment surgery (SRS) is a deeply personal and transformative journey for individuals seeking to align their gender identity with their physical appearance. V Plast Clinic in Pattaya, Thailand, offers comprehensive Male to Female Sex Reassignment Surgery packages that are not only affordable but also provide a high standard of care and expertise.
Cost of Male to Female Sex Reassignment Surgery in Pattaya, Thailand
You can get male to female sex reassignment surgery package in Pattaya, Thailand by V Plast Clinic with the price starts at $12,000 - $17,000. Please refer to our price list table below:
| | |
| --- | --- |
| Location | Cost in USD |
| Pattaya, Thailand | $12,000 - $17,000 |
| United Kingdom | $21,581 |
| United States | $30,000 |
Note: price may change depends on complexity of procedures and patient conditions. Click free quote button below to learn more:

Advantages of Choosing Male to Female Sex Reassignment Surgery in Pattaya, Thailand
Cost-Effective Care: Pattaya offers world-class medical services at a fraction of the cost compared to Western countries.
Experienced Surgeons: V Plast Clinic boasts a team of skilled and experienced surgeons specializing in gender-affirming surgeries.
Privacy and Discretion: Pattaya provides a welcoming environment where patients can undergo SRS discreetly, respecting their privacy.
Cultural Diversity: Enjoy the rich culture and beautiful landscapes of Thailand while on your journey to self-discovery.
Post-Operative Recovery: The warm climate and serene surroundings in Pattaya contribute positively to the healing process.
What is Sex Change Surgery?
Sex reassignment surgery is irreversible and expensive. It is for this reason that you must be sure before getting operated on. Also, sex change surgery is expensive. The relatively low cost of surgery in Thailand is why so many patients choose this country for sex change operations.
How is male to female sex change surgery done?
Male to female genital surgery is easier, less expensive and generally more successful than female to male surgery. Estrogen and anti-androgens are given to men to help change their musculature, skin and fat distribution, all of which will make them appear more feminine. Body hair also diminishes.
In male to female surgery, the testicles and most of the penis are removed and the urethra is cut shorter. Some of the skin is used to fashion a largely functional vagina. A "neoclitoris" that allows sensation can be created from parts of the penis. Men retain their prostates.
Men transitioning to women can have plastic surgery to "feminize" their appearance, including work on their eyes, noses, brows, chins and hairlines. They also can have their Adam's apple shaved down so it is less prominent.
Male to Female Sex Reassignment Surgery Package Inclusions
Consultation: Personalized assessments and consultations with the medical team.
Surgery: All surgical procedures and necessary medications.
Hospital Stay: Comfortable accommodation in a reputable medical facility.
Follow-Up Care: Post-operative check-ups and support during your recovery.
Airport Transfers: Hassle-free transportation to and from the clinic.
Male to Female Sex Reassignment Surgery Package Exclusions
Travel Costs: Airfare and travel insurance are not included.
Extended Stays: Additional nights beyond the package duration.
Complications: Costs related to unforeseen medical complications.
Personal Expenses: Meals, shopping, and leisure activities during your stay.
Non-Medical Services: Any non-medical services or treatments not directly related to SRS.
Male to Female Sex Reassignment Surgery Pre-Op Tests
Hormone Assessment: Evaluating hormone levels to tailor hormone therapy.
Psychological Evaluation: Assessing mental health and readiness for surgery.
Medical History Review: Comprehensive analysis of your health history.
Blood Tests: Screening for any underlying health conditions.
Imaging Studies: X-rays or MRIs to ensure the best surgical approach.
Sex Change Operation Surgeon in Pattaya, Thailand at V Plast Clinic
At V Plast Clinic in Pattaya, Thailand, our team of highly skilled and compassionate surgeons specializes in gender-affirming surgeries, including Sex Change Operations. With a deep commitment to providing exceptional care, our surgeons are dedicated to helping individuals on their transformative journeys. With a focus on safety, expertise, and patient-centered care, V Plast Clinic is a trusted destination for those seeking Male to Female Sex Reassignment Surgery, ensuring a supportive and empowering experience for every patient.
Male to Female Sex Reassignment Surgeon in Pattaya, Thailand

 

Certified Thai board of plastic and reconstructive Surgery.

Certified Thai board of general surgery.

International followship of plastic and reconstructive surgery,ASAN Medical Center Korea.

Member of Asian Hair Restoration Surgeon.

International speaker of nose surgery (Rhinoplasty)

International speaker of facial contouring (V-line surgery)
Good candidates for Male to Female SRS
Newborns with intersex conditions

Men who strongly feel they are physically a different sex than they are mentally and emotionally

Must be 20 years old or receive parent's approval

Must pass the mental examination and receive doctor certification

Must be healthy
Most surgeons require two letters of recommendation from either psychiatrists, therapists or psychologists recognized in the field of gender identity. These letters must state that the individual is an appropriate candidate for SRS.
What to Expect During Your Stay in Pattaya

Arrival:

Airport pickup and transfer to your accommodation.

Consultations:

Initial consultations with your medical team.

Surgery:

Scheduled procedures with dedicated surgical teams.

Recovery:

Post-operative care and follow-up appointments.

Exploration:

Enjoying the local culture and sights during your stay.
FAQs (Frequently Asked Questions)
1. Is Male to Female Sex Reassignment Surgery (SRS) in Pattaya, Thailand, safe?
Yes, SRS in Pattaya is safe when performed by experienced surgeons like those at V Plast Clinic, who specialize in gender-affirming surgeries and adhere to international medical standards.
2. How much does Male to Female SRS in Pattaya typically cost?
The cost can vary based on individual needs, but packages at V Plast Clinic typically range from $12,000 to $17,000, making it an affordable option compared to many Western countries.
3. Are there any age restrictions for undergoing SRS in Pattaya?
The minimum age requirement may vary, but most clinics require patients to be at least 18 years old. It's important to consult with the clinic for specific age-related policies.
4. How long is the recovery period after Male to Female SRS?
The recovery time varies depending on the specific procedures involved but typically ranges from several weeks to a few months. Your medical team will provide guidance on your individual recovery plan.
5. Can I bring a support person with me to Pattaya for my surgery?
Yes, many patients opt to have a trusted friend or family member accompany them during their journey. It can provide emotional support and assistance during the recovery process.
Get FREE QUOTE for Sex Reassignment Surgery in Pattaya, Thailand at PlacidWay!
Ready to begin your journey to self-discovery? Book your consultation at PlacidWay Medical Tourism and take the first step towards the life you've always envisioned. Undergoing SRS may be the biggest change that a person could experience. If you're considering male to female gender reassignment surgery, no doubt you have many questions and concerns. Do not hesitate to get in touch with us!

Related Experiences:
Gender Reassignment Surgery in Thailand
Gender Reassignment Surgery Male to Female in Bangkok, Thailand
Female to Male Gender Reassignment Surgery in Bangkok Thailand
Gender Reassignment Male to Female Surgery in Thailand
Plastic Surgery in Bangkok, Thailand
Breast Lift in Bangkok Thailand
---