Best Gastric Bypass Surgery in Mexicali, Mexico 2021
Package price starting from:
$6250
Treatment:
Obesity/Bariatric Surgery, Gastric Bypass
Focus Area:
Gastric Bypass Surgery | Gastric Bypass Surgery Mexico Cost | Weight Loss Surgery | Sleeve Gastrectomy | Best Bariatric Surgeons in Mexico | Mexicali | Mexico
---
Gastric Bypass Surgery, Gastric Bypass Surgery Mexico Cost, Weight Loss Surgery, Sleeve Gastrectomy, Best Bariatric Surgeons in Mexico, Mexicali, Mexico

Best Gastric Bypass Surgery in Mexicali, Mexico 2021
If you want to be healthier and lose weight in a proper manner, you have the chance to choose the best bariatric procedure by traveling to Mexico.
Gastric bypass surgery changes how your stomach and small intestine handle the food you eat, thus helping you to lose weight. After the surgery, your stomach will be smaller, you will eat less, and the food will no longer reach some parts of your stomach and small intestine.
The procedure divides the stomach into a small upper pouch and a much larger lower pouch, and the small intestine is rearranged to connect to both. Gastric bypass is prescribed to treat morbid obesity, type 2 diabetes, hypertension, sleep apnea, and other comorbid conditions. The surgery will last about 1.5 hours, and the patient will need to stay in the hospital for 2 to 3 days.
Gastric Bypass Surgery Mexico Cost
At Family Hosital the Gastric Bypass Surgery Mexico Cost is around $6,900 onwards including 3 nights hospital stay. While in America the cost of the gastric bypass is $23,000. Gastric bypass surgery in Mexico is a smart option if you are looking to have efficient and affordable treatment. Family Hospital in Mexicali is an industry leader in weight loss surgery, using board-certified physicians. Family Hospital Medical Group has been created with the commitment to provide patients quality and excellence in health care, with specialized doctors, advanced technology, and skilled technical and administrative staff.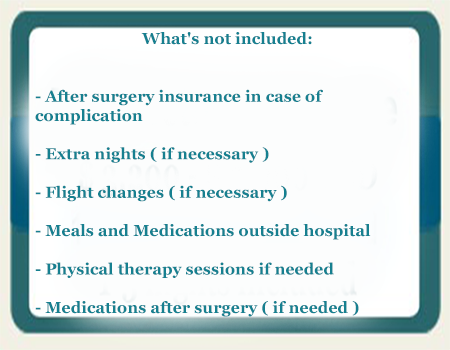 Types of gastric bypass
Roux-en-Y gastric bypass (RGB) is the most common gastric bypass surgery performed in the U.S.
Extensive gastric bypass (biliopancreatic diversion) is more complicated and involves the removal of the lower portion of the stomach - the small pouch that remains is connected directly to the small intestine.
Your bariatric surgeon can perform gastric bypass surgery in two ways:
Laparoscopically, making several small abdominal incisions.

Traditionally, as an "open" procedure, making a larger abdominal incision.
You may qualify for gastric bypass surgery
If your efforts to lose weight with diet and exercise have been unsuccessful

If your body mass index (BMI) is 40 or higher (extreme obesity)

If you have a serious weight-related health problem, such as type 2 diabetes, high blood pressure, or severe sleep apnea
Advantages of gastric bypass surgery
You will lose two-thirds of your excess weight within two years.

Restricts the amount of food you can eat and reduces the number of calories your body will absorb.

The laparoscopic approach results in smaller scars and less pain than open surgical procedures.

Improves high cholesterol, resolves high blood pressure, controls type 2 diabetes.
If you want to find out more about the benefits of undergoing gastric bypass surgery in Mexico, do not hesitate to contact us!

Related Experiences:
Gastric Bypass in Mexicali, Mexico
Gastric Bypass in Merida Mexico
Get Rid of Obesity with Gastric Bypass Cancun Mexico – Save Up to 80%
Achieve Long-Term Weight Loss with Gastric Bypass in Tijuana
Gastric Bypass in Mexico - Lose Weight Today!
Gastric Bypass in Izmir Turkey
---
Obesity/Bariatric-Surgery Related Packages
Obesity/Bariatric-Surgery Related Experiences