Advanced Sex Reassignment Surgery Female to Male in Bangkok Thailand
Treatment:
Cosmetic/Plastic Surgery, Sex Change Operation
Focus Area:
Advanced Sex Reassignment Surgery Female to Male | Bangkok, Thailand
---
Sex Reassignment Surgery Female to Male in Bangkok, Thailand

Sex Reassignment surgery of female to male in Bangkok, Thailand includes surgical procedures that will reshape a female body to appear like that of a genetic male.
Male sex hormones, testosterone, are also used to augment the whole female to male surgery transition process.
Because most of the female to male surgical and non-surgical procedures are irreversible, a comprehensive evaluation of the patient must be done by at least 2 qualified, board-certified mental health professionals.
A letter of recommendation by these evaluating professionals is then required before breast and genital surgery can be done.
In order to obtain this letter, the sex change female to male patients must meet the eligibility and readiness criteria as enumerated in the HBIGDA Standards of Care.
At Yanhee Hospital in Bangkok, Thailand, the sex change operation specialists will guide you carefully through the transition from female to male to ensure the successful completion of your process.
You will have complete guidance from doctors and nurses alike, in the most comfortable environment!
Female to Male surgery Cost in Thailand
The cost of female to male surgery in Thailand starts from $2100 at best gender reassingment surgery clinic which is more than 60% cheaper srs compare to other countries.
| | |
| --- | --- |
| Country | Cost |
| Thailand | from $2100 |
| Australia | from $10,000 |
| United Kingdom | from $15,000 |
| United States | from $30,000 |
Please remember the Dollar Price is for orientation ONLY and according to the currency fluctuation $-Thai Baht these prices may differ from the ones shown in this package.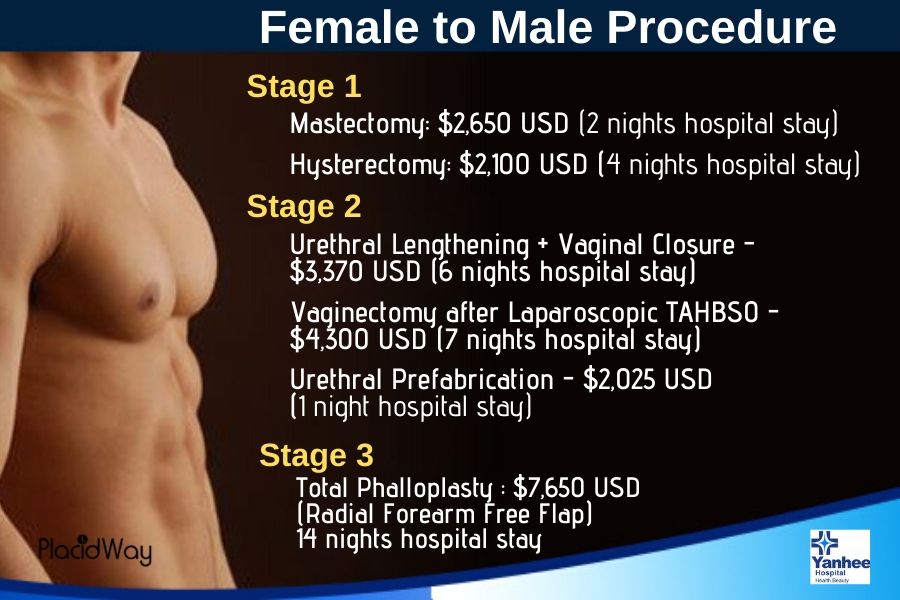 For an accurate quote and an assessment from the Yanhee Experts please contact us and we will help you FREE of charge with any information you might need!
Why choose Yanhee Hospital for SRS Treatment?
The high satisfaction rate among patients.

Highly experienced cosmetic surgeons.

A center that specializes in BEAUTY.

"One-stop shop" for beauty.

Affordable, transparent pricing.

The package pricing scheme is the most ideal and convenient for medical travelers.

Hospital personnel with a personal touch.

Interpreter/translator services without extra charges.

English-speaking personnel at every counter and department.

Continuous pursuit of QUALITY according to the highest standards.
For more information about the Sex Reassignment procedure of female to male surgery in Thailand offered by Yanhee Hospital, or if you need a FREE quote, click the button below!

Related Experiences:
Gender Reassignment Surgery Male to Female in Bangkok, Thailand
Female to Male Gender Reassignment Surgery in Bangkok Thailand
Gender Reassignment Surgery in Thailand
Facelift in Bangkok, Thailand
Rhinoplasty in Bangkok, Thailand
Breast Augmentation in Bangkok, Thailand
---
---
---
---