Joao Nunes da Costa - Plastic Surgeon
Plastic Surgery Joao Nunes da Costa-Plastic Surgeon, Lisbon, Portugal, Plastic Surgery Lisbon, Liposuction, Breast Lift, Buttocks Lift, Plastic Surgery Clinic Portugal

Rua João Dias 18, 2º direito, 1400-220 Lisbon, Portugal, Lisbon, Portugal

Specialty:

Anti Aging, Cosmetic/Plastic Surgery, Skin Care

Focus Area:

Joao Nunes da Costa-Plastic Surgeon | Lisbon | Portugal | Plastic Surgery | Cosmetic Surgery
Joao Nunes da Costa - Plastic Surgeon Profile Overview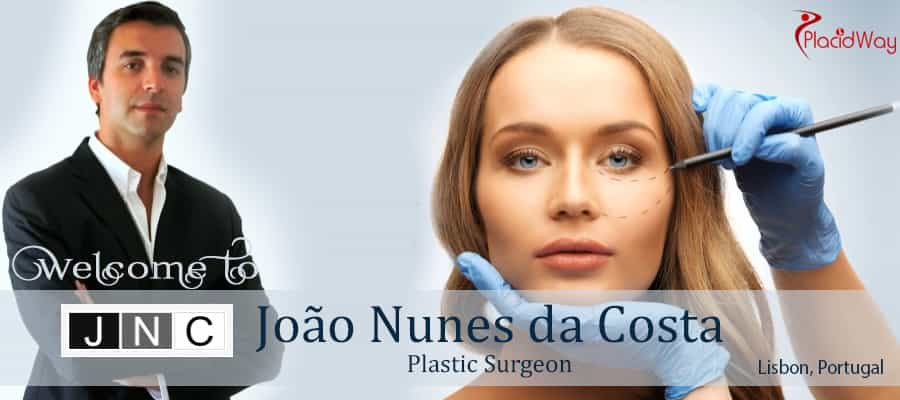 Welcome to the Joao Nunes da Costa-Plastic Surgeon Center
The Joao Nunes da Costa center is based in the very core of Lisbon, Portugal, Our Joao Nunes da Costa-Plastic Surgeon center offers numerous procedures and treatments in the field of correctional and plastic surgery. This center is dedicated to providing an exceptional service, supported by a talented and experienced medical staff and the latest in medical equipment. Our clinic's goal is to make every local and international patient feel welcome at his clinic and taken care of by some of the most experienced professionals in plastic surgery.
This center is focused on developing practical, efficient and low-scaring procedures, which patients find appealing and convenient. On top of it, through our center, you will get to experience sunny Lisbon, a center known for fantastic plastic surgery clinics, historic values and more.
As a professional plastic surgery center, we offer a great safety policy, which contributes to the positive reviews from patients seeking treatment here. Knowing the need for safety, we send our staffers to a ground-breaking training, guaranteeing quality, experience, and practice in the field.
Treatments and procedures
As for the plastic surgery treatments and procedures, here is what our team at the Joao Nunes da Costa-Plastic Surgeon center offers:
Reconstructive surgery

Face surgeries

Buttocks procedures

Breast and thorax procedures

Nose and lips surgical procedures

Upper and limbs reconstructive procedures
For more information about the treatments and procedures offered by Joao Nunes da Costa-Plastic Surgeon clinic, please contact us!
---
---